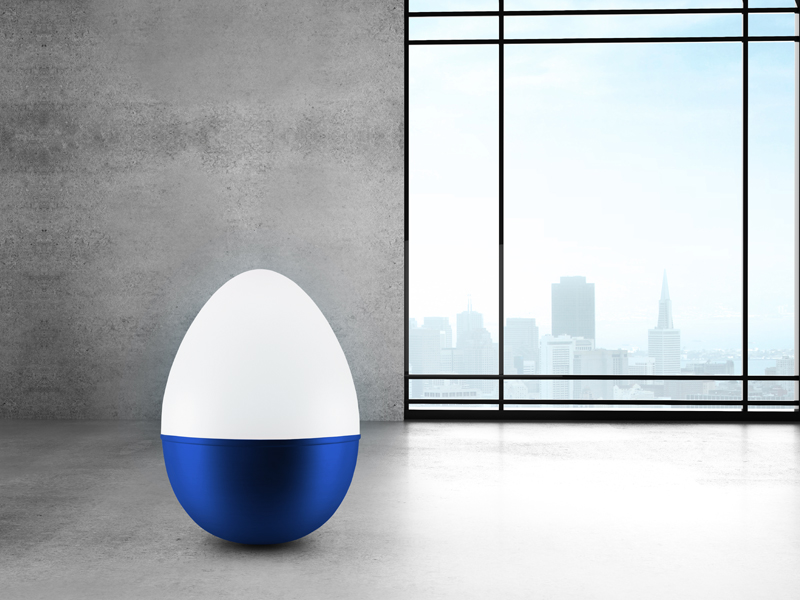 General Information
ROCKY Dancing Colours is a patented LED designer lamp based on the concept of "emotional design" and constructed as a "tumbler toy". ROCKY is the first lamp which adds a dynamic dimension to lighting design: Push the lamp over and its innovative technology produces a different light colour with every back and forth motion – ROCKY is as a truly interactive lamp.
ROCKY Dancing Colours is based on a proprietary and patented technology. This state-of-the-art lamp has its own app to offer a wide range of possible applications. Its timeless classic design is in stark contrast to the dynamic functionality of the lamp. Users can create their own individual colour and light shows for total creativity in the home – everything from a harmonious static blend of colour and light to a rocking display. With its unique features and its exceptional shape ROCKY is not only an eye-catcher, but is also ideal for a broad range of applications – from private homes to commercial events.
Design and concept
The lamp's body represents a primeval form of nature: the egg-shape. This puristic shape is complemented with an exclusive mechanism, which offers fantastic variety: From fostering an atmosphere of ease and calm when the lamp is still, glowing in different shades of white, to the vibrant and colourful lighting scenes of ROCKY – Dancing Colours.
When still, ROCKY is shining in a warm white by default. It is, however, possible to change this setting and to adapt the light to individual preference by choosing any colour of the colour slale via the smartphone-app. In addition, the app offers a wide range of technically fascinating features, which allow for a creative and personal design of the living area.
The lamp's modern, timeless design makes it suitable for every surrounding and for every furnishing style. ROCKY is hence the perfect choice when creating a personal light atmosphere, be it in private homes or for commercial occasions such as hotels, fairs or events. ROCKY can even be used for medical practices and therapeutic facilities. With ROCKY, you can create real highlights which your guests and visitors will remember.
Emotions
As every design object, ROCKY evokes a wide range of emotions. Already looking at an egg-shaped object which does not fall over leads to a first moment of surprise. Furthermore, knowing about the lamp's dynamics creates tension and curiosity. The broad spectrum of different features offers fun for young and old alike.
ROCKY is unique and fascinating! The reason for that lies not only in the combination of the appealing, round form and vibrant inner life. Rather, the fact that ROCKY is "responding" when you get in contact is decisive – discover it by yourself! Perhaps the interactive design lamp ROCKY will then become your ROCKY as well.
Light shows
ROCKY – Dancing Colours is more than "just" an interactive light. Due to the sophisticated technology, there are various fascinating ways to make use of ROCKY – you will not want to miss ROCKY in your everyday life:
App functions

that can be used and combined according to your wishes.
Various modes for colour changing
Indication of battery charge
Multi-Sync only upon request!
Basic functions

Colour-modes

Clock & Timer

Smartphone interaction